It's Not A Limit, It's A Challenge
A bit of way-back Wednesday for people who like old WordPerfect stories.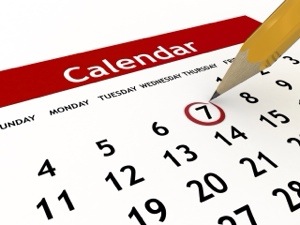 (Photo Credit: Madison Metropolitan School District)
In addition to an email client, WordPerfect Office 2.0, and WordPerfect Library had a calendar program. This isn't a big deal in 2013. Every smartphone comes with a calendar program. But in 1988, it was pretty innovative. And as much as I like the iPad, I really wish it included the functionality that WordPerfect's calendar program had 25 years ago.
I'm talking about calendar rules. Say, you have violin lessons every Friday afternoon. You could create a rule that said,
every seven days
starting on a Friday.
Big deal. My phone can do the same thing!
So can mine. But, you know what my phone can't do? Create an appointment that occurs every six weeks. Or, better yet, every 42 day. Or any other arbitrary number.
WordPerfect couldn't do that either. The programmers only included numbers up to 31 in the rules. However, you could have multiple criteria. For example, you could say
every seven days and every two days
This created an appointment every fourteen days. But, what we discovered was that you could combine numbers as much as you wanted. So, if you wanted an appointment every forty two days, you enter
every seven days and every 6 days
The only time those two conditions are both met is every 42 (7 times 6) days. Eventually, of course, the programmers simply changed the program so you could use any numbers. But, in the early versions when they thought they needed to limit users to only numbers less than 31, it was fun to discover that with a little work we didn't have to be limited.
The lesson for us today is not hard to see. Are you letting someone else set your limits? Are you simply content to accept arbitrary limits that someone else picked?
Often with a little ingenuity, you can accomplish far more than anyone ever imagined!
(I still wish my iPad calendar allowed rules.)
Rodney M Bliss is an author, columnist and IT Consultant. He lives in Pleasant Grove, UT with his lovely wife and thirteen children.
Follow him on
Twitter (@rodneymbliss)
Facebook (www.facebook.com/rbliss)
LinkedIn (www.LinkedIn.com/in/rbliss)
or email him at rbliss at msn dot com