The Worst It Can Get?
Hello?

Yeah, Mom? It's me. There's no easy way to say this. . .well. . .

(crickets)

Ah. . .you know the Crazy Man Ranch thing didn't work out. . .just like you said. Ha ha.

(more crickets)

Um, anyway. . .I'm stuck. I could really use your help. . .or even just your advice. . . . . . Are you still there?
What is the hardest thing you would do for your kids?
For me, it was going to my mother and asking for money. That was hard enough when I was 17 and wanted to take a girl to the prom but had no money. It's infinitely worse when you're 40 years old, have 12 kids at home and just got done making one of the biggest business mistakes in your life. . .Oh, and mom said she didn't think it was a good idea at the time.
It became clear that staying in Wisconsin was not going to work. It did me no good to complain about my former "partner" and the lies he'd told me. I may have been a mess emotionally, but I've never been one to look back.
We held a yard sale before we left. We didn't sell stuff we didn't want. We sold stuff we didn't want to move. We used two semi-truck trailers to move our stuff to our house in WI. We were definitely slimming down on the way back. The talk with the kids was hard.
Kids, you know we are moving back to Washington, right? Well, we aren't going to have a lot of room. We're going to rent a UHaul trailer and we've got the tent trailer. It means that each of you can take one box of clothes and one box of toys. If it can't fit in the box, it can't go.

Can we take our stuffed animals?

If you want to take that instead of a pillow, yes.

Can we take our bikes?

Yes. You can take your bikes. I think I can secure them on top of the tent trailer.

Okay.
Telling the kids was tough on me. They took it reasonably well.
The other thing we had to arrange for was housing. We were moving back to the Seattle area. We had lived there several years earlier. Luckily we found a friend who wanted to downsize. We arranged a "rent to own" deal that started with a very low payment and increased as the months, and hopefully my paychecks, increased.
Not that I had any job prospects. The plan was to start up a small business consulting company. The thought terrified me. But, then most things terrified me at that point. I applied to large companies as well, but the responses I received were lukewarm at best.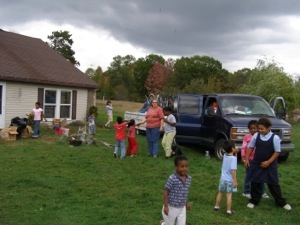 The day came that it was finally time to go. Although our time in Wisconsin had been short, we made some very close friends. I was sorry to leave the house.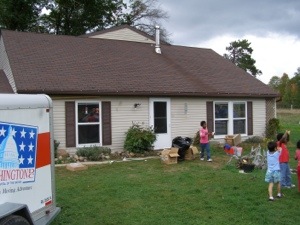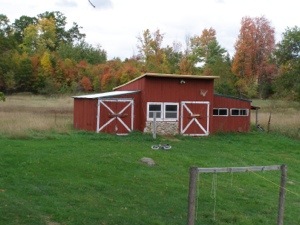 It sat on 7 acres and had several outbuildings. Amazing what you can get for $116,000 in the middle of nowhere. My daughter never was comfortable with it since the staircase had 13 steps. I'm not superstitious, but we still lost the house.
We tried to turn it back to the bank, but ultimately simply locked the door and drove away.
I like road trips. I really do.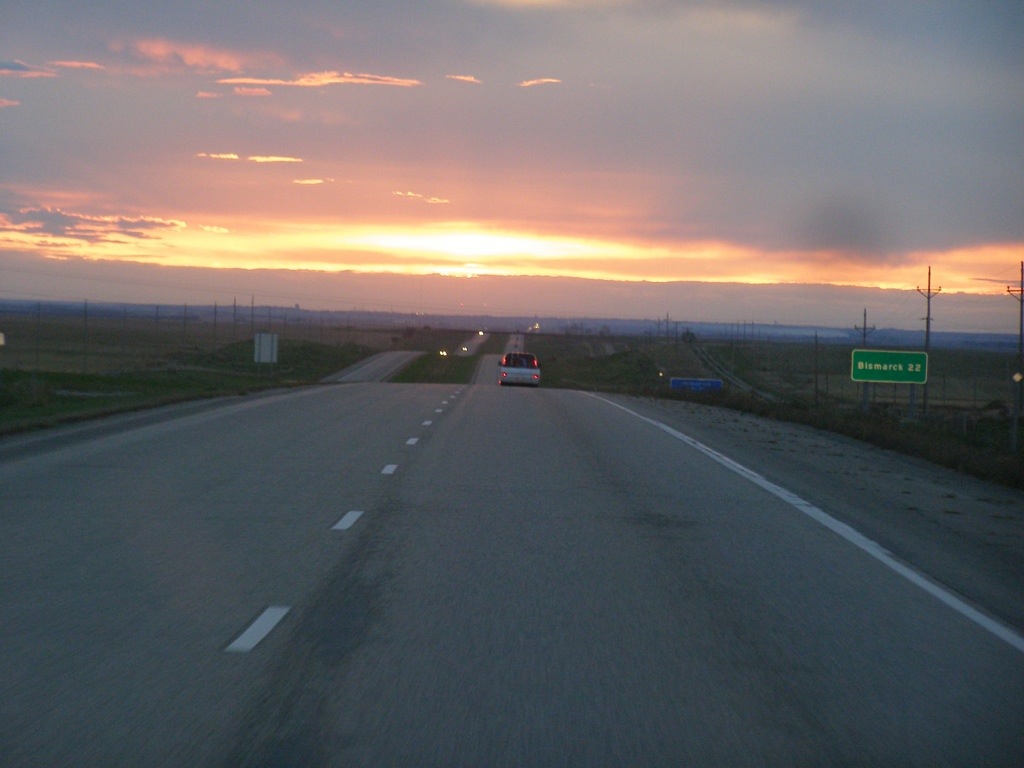 And while this one was certainly under duress as we headed for the Wisconsin Minnesota state line, I started to relax. . .just a little. It was about that time that the tire on the tent trailer blew out.
Our trip just got more interesting. Hours later it was finally towed to a repair shop. The tire had damaged the wheel housing in its death throws. The mechanic bent the housing back in place and put a new tire on.
This is a lot of weight for these little trailer tires.

Oh?

Yeah, with all those bikes on top, and with what you've got packed inside, you're probably going to blow the tires again. They just aren't rated for that heavy of a load.

So, the bikes are overloading it?

Yeah.
He knew someone who refurbished old bikes and donated them to needy children in the area. I didn't want our kids to see the bikes get unloaded. We took them out the back of his shop and leaned them against the wall. Fourteen of them in all.
The kids were aware enough to not even ask when we pulled around the now empty trailer. It was a somber trip across Minnesota.
Somewhere in North Dakota my wife's phone rang. We were in different vehicles, so when she finished she called me.
She can't do it?

Who?

Sandra can't rent us her house. Something about her mortgage and subleasing.

So, we need a place to stay.

Yeah. I talked to my brother, Bob and he has an idea, but it's not ideal.

Bob is the one with the horses?

Yeah.
We pulled into Enumclaw, WA the next day and pulled into Bob's driveway. The light drizzle so common to Western Washington fall weather made little puddles in the gravel driveway. We drove past his house and stopped in front of one of the smaller stables.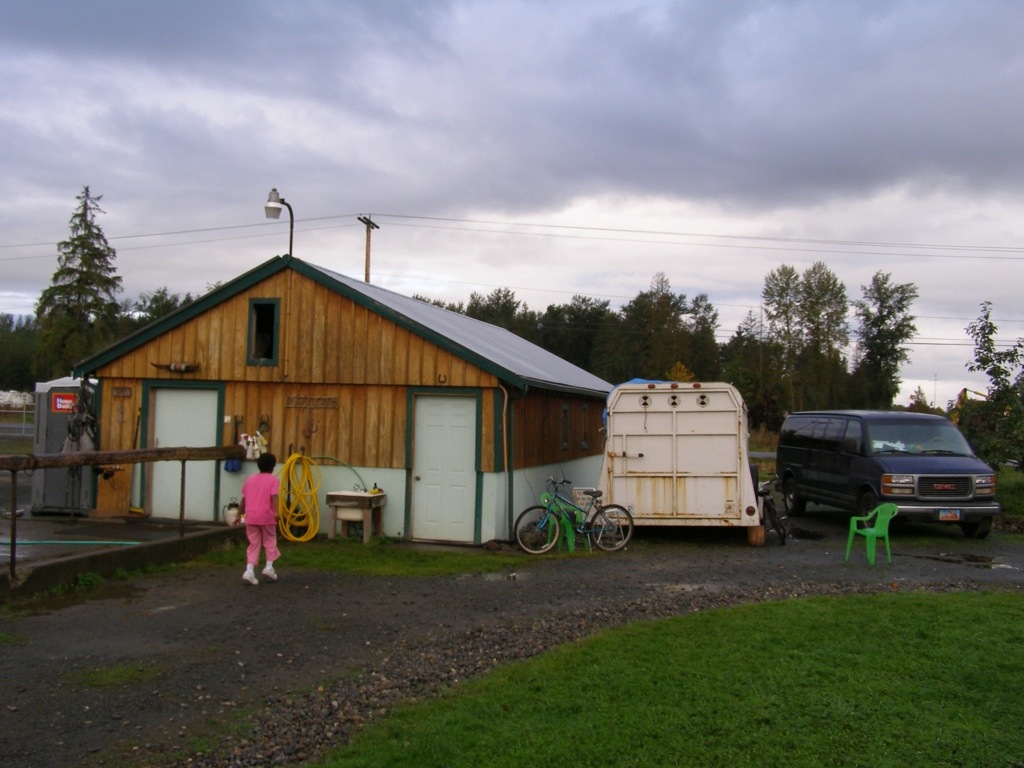 The port-a-potty had already arrived. Inside, the tack room was converted to a small living area, with a microwave and a refrigerator. The stalls had all been freshly mucked out and lined with black plastic. But, the smells were as powerful as ever. The five boys went into one stall, the 7 girls into another, and my wife and I into the third.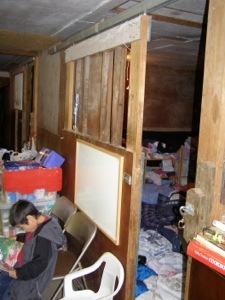 Lying on a mattress in the dark next to my wife that first night, I considered how had I ended here? Could it get worse than this? Probably, but I was having a really hard time figuring out how.
Mom? Are you there?
This is the fourth in a five part series on an experience I had trying to run a rafting company in Wisconsin and the aftermath. Monday I explored why sometimes "Following your Bliss" isn't exactly the best choice. Tuesday I described a really dysfunctional company and how quickly the lies started to appear. Yesterday I talked about how my former partner fired me after 23 days. Tomorrow I'll talk about how when things are at their worst, it does get better.
Rodney M Bliss is an author, blogger and IT Consultant. He lives in Pleasant Grove, UT with his lovely wife and thirteen children.
Follow him on
Twitter (@rodneymbliss)
Facebook (www.facebook.com/rbliss)
LinkedIn (www.LinkedIn.com/in/rbliss)
or contact him at (rbliss at msn dot com)