I Don't Know What You Do Here, But I Need You Here Doing It!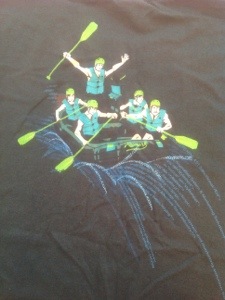 I didn't know what I did either. Well, I did in a high level "I'm president of the RESMARK company" sort of resume-placeholder way. But, exactly what useful purpose I served day-to-day? I struggled to figure that out most days.
It was the summer of 2006 and I was headed out on an extended road trip to visit our current and prospective clients for our Whitewater rafting reservation software. I know what you're thinking: Whitewater rafting reservations? Do they really need a specialized software program?
During the roughly 100 days from Memorial Day to Labor Day, Echo Canyon Rafting in Canon City, Co will send 25,000 guests down the Arkansas River. They were the biggest outfitter on the Arkansas, but Noah's Ark was only slightly behind them. Those two were both customers. They were doing all those reservations with paper and pencil.
In addition to being the president, I was the chief sales guy for RESMARK. Actually, I was the only sales guy. Fortunately we weren't depending on sales just yet. We were running on investment money and our version 1.0 product was scheduled to ship just after the season ended on Sept 1. My job in the summer was to press the flesh with the customers who had signed up and make sure we were including the right set of features in the finished product.
We'd been working on the RESMARK program for a couple of years. We had spun the company off from Agile Studios the previous year. We were primarily a development shop. In addition to myself, we had Richard, our office manager, and Del, our IT guy. Everyone else was a programmer. Dave was our head programmer. My job was to talk to Dave and talk to our investors and make sure the refrigerator stayed stocked. Actually Richard took care of that.
"What is it you do here?"

"I have no idea. Maybe I could help write code?"

"If you do, I'll need to hire two more programmers.

"Why?"

"To clean up after you."

"That's harsh, Dave."
Dave liked to tease me, but there were days when I really wasn't sure what value I added. So, when the weather warmed up, I headed out to visit our 10 beta customers across the United States. Ironically, I didn't get to go rafting at all that summer.
After about 3 weeks, Dave called me.
I don't know what it is you do here, but I need you here doing it.
Our programmers were pretty junior, and while Dave had over 10 years experience, at times he had to do more micro managing than he would have needed with a more senior staff. Having me in the office provided a little more "grown up" influence. Sometimes just showing up makes a difference.
Our staff was great, and they all went on to successful programming careers. But, sometimes they just needed someone there to remind them that we had investors and customers that were anxiously waiting for the program they were building. I think it helped them focus.
I still wasn't entirely sure what I did, but it clearly was important!