You Want A What? We Don't Even Make Those Anymore!
"A template for WordPerfect 2.3."

"You know that the current version of WordPerfect is 5.0, right?"

"Yeah, I know. I was just hoping that there might be some way you could help me get another one."

"Well, what happened to your old one?"

"My dog ate it. . .Really!"
I mentioned yesterday, in talking about My Manager From Hell, that I spent my entire career at WordPerfect supporting various versions of Office and Library. So, why was I talking to a customer about an ancient version of the word processor? WordPerfect had hundreds of incoming phone lines and dozens of numbers. In addition to the Office/Library team, there were separate lines for
– Printers
– Features
– Macros
– Network installations
– Macintosh
– Data General
– VAX/VMS
And a bunch more speciality groups. With that many groups, WordPerfect typically reused phone numbers. Many years earlier the number that we were using for Office/Library calls was the main feature number.
The woman on the phone was named Summer. I don't remember her last name. Details fade after 20 years.
If you called up a company today and asked them a question about a version of their software that was five years old, what do you think the response would be? You'd get a polite, thank you for calling. And probably a "Can we upgrade you to the latest version?"
That was not how WordPerfect trained their support operators. People bought our software, we agreed to support it. . .forever if possible.
"Let me see what I can find."

"Oh? Thank you! Thank you!"

"There's no guarantee."
I went to find one of the support managers that I knew had been with the company many years.
"Debbie, do you by chance have a WordPerfect 2.3 template?"

"Well, I've got a 2.4 and they were really similar. You have to PROMISE to take care of it!"

"I need to make a copy for a customer.

"Oh, in that case, sure. Get it back to me when you can."
This might be a good time to explain what the template looked like. Later versions of WordPerfect used templates that went on the function keys. Here's a WordPerfect 5.1 Template for modern keyboards with the Function keys across the top.



(Photo courtesy of minuszerodegrees.net)
Here's a template for the older style keyboards that had the function keys grouped on the side, kind of like a ten-key keypad.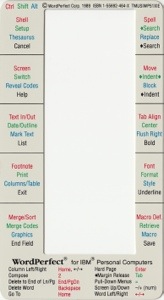 (Photo courtesy of minuszerodegrees.net)
However, WordPerfect 2.3 used the ALT, CTRL and SHIFT keys along with the keys on the top row of the keyboard, not the Function keys. The only one I remember is ALT-[EQUAL SIGN] was the original sequence to exit. Later this functionality was mapped to F7.
The template for WordPerfect 2.3 looked like an "L" laying on it's side. The short leg looked like the square template above. The long side looked similar to the long template above.
I now had a copy of the template. My next stop was the art department. I found one of the artists who create the current templates. Once I explained that I was trying to help a customer, the artist was more than happy to mock up a new template based on the one I'd borrowed from Debbie. We then printed it on card stock and then cut and laminated it.
"Summer? This is Rodney with WordPerfect. I'm sending you a new template today."

"Really? Oh, you are an angel! Thank you, thank you!"
Obviously we couldn't have done that much work for every customer who called. But, that was the point. Every customer didn't need it. We could be exceptional occasionally because we were only occasionally asked to be exceptional. That level of support was the reason that even after Microsoft Word had crushed WordPerfect's market position, many customers refused to switch. To this day, I meet loyal WordPerfect customers. I wouldn't be surprised if somewhere Summer is still using WordPerfect 2.3. . .and keeping her dog away from the keyboard.