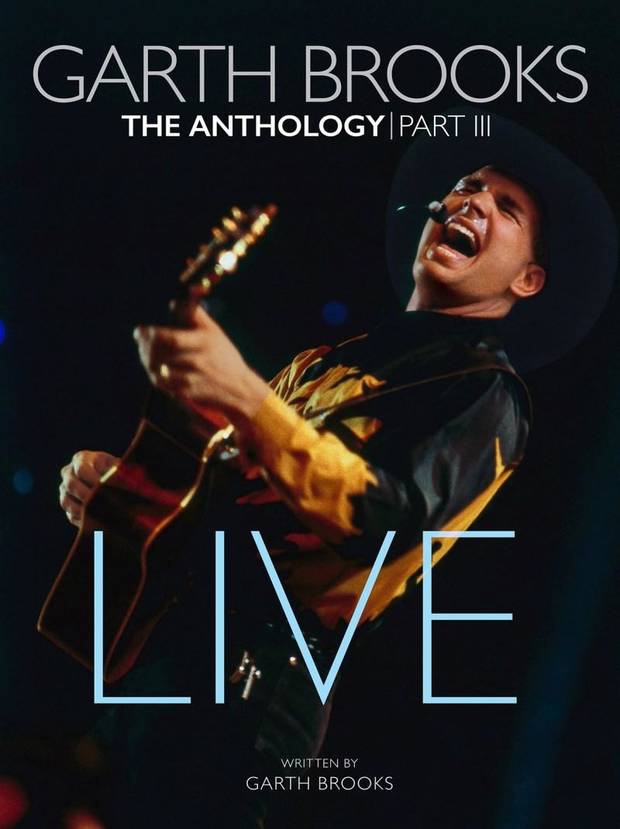 Recently I did a book review on Garth Brooks The Anthology | Part I. Since I'm now doing a review of Garth Brooks The Anthology | Part III, you might think that you missed a review for Garth Brooks The Anthology | Part II.
I thought I'd missed it too when I saw Garth Brooks The Anthology | Part III on the shelf. I'm sometimes a "Collect All The Things" guy. I hated to think I'd missed the second installment.
I later found out that Garth Brooks decided to skip Part II and go straight to Part III. I didn't ever find a reason why. But, it made sense in a way after reading Part III. Where Part I focused on the first five years of Brooks' career, Part III focuses on his live performances.
And one of the things that becomes obvious in reading through the 255 oversized pages, is that Brooks had a very definite planto how he was planning on running his career. From what he wanted his stage shows to look like to how he intended to take his music to television, Europe and Australia.
One area that Brooks seems to have not known what to expect, or been able to polan for was his concert in New York's Central Park It's the opening chapter in the book and it's a compelling story. Eventually, we learn, along with Brooks that his concert in Central Park was the largest concert in history. At least the largest in New York history. Nearly 800,000 people attended.
Garth Brooks was the most popular recording artist in history. He's sold over 100,000,000 albumns. And as amazing as his studio career was, his live shows were even more impressive. And the book captures that the spirit of those live shows, in words and pictures.
What I Liked
Much as in the first Anthology installment, Brooks' voice comes through well in the storytelling. Personally, I've never been to a live Garth Brooks show. I didn't even see his television specials. So, all of the material in the book was new to me. But, I'm also a big Garth Brooks fan, so this book was like reading a new installment in a series you've already become a fan of: same characters, new settings.
What I Didn't
Part III, lacked some of the cohesion and flow that the first book had. By starting with the Central Park Concert the book felt like ti started in the middle of the story. We went from the high point of Central Park back to the very beginning of his career where he's just a guy trying to form a band.
I understand why they told the story the way that they did, and it "worked." But, it also felt somewhat contrived. In many ways there was no natural progression of one live event to the next. And in some cases there was. Obviously, you go from playing bars to clubs to opening act to headliner. But, trying to tie the growth of the act to various live events in a progression didn't always work.
What It Means To You
If you are a Garth Brooks fan, especially one of the millions that attended his live events, you'll undoubtedly enjoy this book. You will learn information about how performing groups get created and how stage shows get put together. If you are not a fan, the story may not be enough to keep you engaged.
My Rating
3 out of 4 stars
Stay safe
Rodney M Bliss is an author, columnist and IT Consultant. His blog updates every weekday. He lives in Pleasant Grove, UT with his lovely wife, thirteen children and grandchildren.

Follow him on
Twitter (@rodneymbliss)
Facebook (www.facebook.com/rbliss)
LinkedIn (www.LinkedIn.com/in/rbliss)
or email him at rbliss at msn dot com

(c) 2020 Rodney M Bliss, all rights reserved